Installation and maintenance
INSTALLATION
We erect fences and gates in accordance with the customer's wishes on the turnkey principle. Our professional and experienced fitters can work on even the most challenging sites. Seamless cooperation between the fitters and the factory also enables individual wishes to be implemented with a high standard of quality. A correctly built fence blends into its surroundings well. We grant a two-year guarantee for installation work conducted by Saher-Aidat Oy and our subcontractors.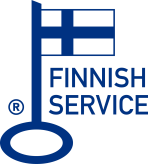 Our fence installations include the following:
Installing ground anchors and posts and/or
Digging casting pits and casting posts directly into pits and/or
Drilling rock and installing anchors
Installing the fence mesh and/or fence modules
Our gate installations include the following:
Excavating foundation pits
Casting foundations and/or gate posts
Installing the gate
Installing the mechanical features of the gate machinery and making electrical connections
Customer's obligations:
Obtaining a construction permit
Marking the location of the fence line and gate
Providing elevation points
Levelling, clearing and filling the fence line and gate area
Marking electrical, fibre and telephone cables, as well as wastewater, gas and other pipes
Repairing asphalt, grass and other areas after the work is complete and disposing of excavated waste
Receiving and storing supplies
For mechanical gates, the customer's obligations also include the following:
Providing a power supply and control cables to the gate machinery and connecting them up to the terminal blocks
Installing a pipe under the roadway with a cable puller from one cast to another and pulling the control cable through
Asphalting the gate area for the installation of safety openings
Maintenance
A durable and functional fence and gate will need maintenance measures to withstand the varying weather conditions in Finland. Regular inspection and maintenance extend the useful lives of fences and gates. Fences that are maintained using the correct methods and original spare parts can remain clean and robust for many years. You can call us out to carry out individual repairs and modifications if necessary. Make an annual maintenance agreement to ensure that your fences and gates remain in flawless condition, both technically and aesthetically. We grant a three-year guarantee for newly installed sites where an annual maintenance agreement has been made instead of the normal two-year guarantee.